Retired site there is a schools of Bisbee group on facebook

My friend Hugh and I went for a walk and took this picture several years ago.

As he and I stood on 'B' Hill deciding how steep it was. I Took this photo.

I call it SCHOOLS.

At the bottom of the photo you can see World Famous Brewery Gulch, some say its a school. The large yellow building in the center of the photo is Central School. Further up you see the Old Bisbee High School written up in Ripley's Believe It or Not because all three floors touch the ground.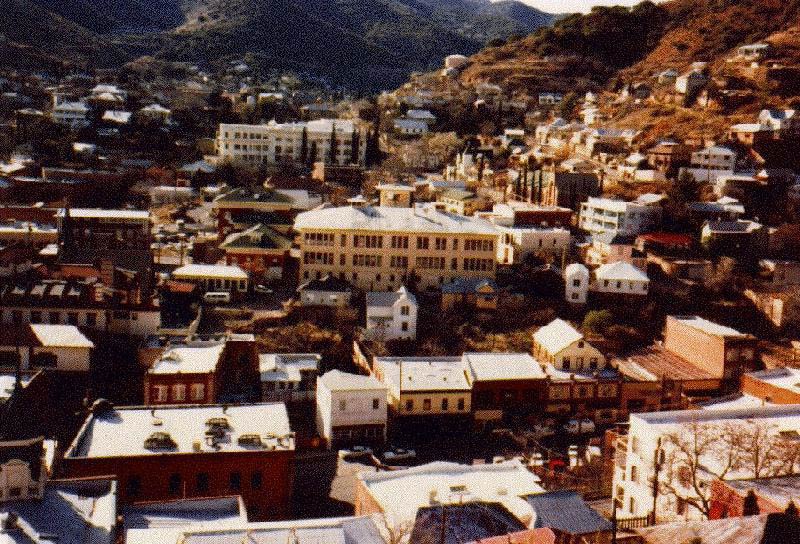 Select the photo to see "B" hill from the backside of Castle Rock.
| | | |
| --- | --- | --- |
| | For those who don't know. "B" hill has a large B placed upon it's upper top side. It is the Bisbee High School logo. During Bisbee history it is called Chihuahua Hill. It rests above Brewery Gulch. According to "Bisbee-Queen of the Copper Camps" it was an enclave of the Mexican population. Make-shift housing, improper sanitation and little, if any, garbage disposal. The health hazard was eliminated by the fire of 1907. Property damage during that fire exceeded $200k and placed 400 people out of their homes. | |
---
| | | |
| --- | --- | --- |
| | You can compare the photo at the top taken in the eary 1990's to this postcard below taken around 1920, no Bisbee High School. | |
| | | |
| | *note there is a Facebook Bisbee schools group this page is very old, and I have no reason to update now. | |
July 13, 2015